Read Time:
7 Minute, 15 Second
Saying that our Social Media strategies are working and giving a positive return on our investment, but it is another to prove if it is true. You cannot rely on subjective measures of success.
You may see that your content is reaching people through each like, comment, and share that you are getting, but it does not accurately answer the question that you may have in your mind, which is, are you doing your Social Media marketing correctly?
How can you successfully audit your Social Media in Sydney?
Due to technology advancement, we have a method to answer this question. Have you heard of Social Media Audit?
Read through with us and learn more about Social Media Marketing Sydney.
Recommended Post: Social Media Marketing Cost 2020
Social Media Audit – By Definition
Social Media audit is the process where SEO companies in Sydney review and determine the total social media presence of each organization or business.
You can use our Social Media Audit Template that will aid you in summarizing your social media presence into one place, and it will make it easier for you to see if you are hitting your targets and where your areas of improvements are.
Instead of talking on how to perform a Social Media Audit, it is better to focus more on how to analyze your results that are coming back at you.
Determining and summarizing the scope of your presence is not enough; SEO companies in Australia need to understand what you need to do next to improve it.
Three Factors to Review in Social Media Audit
You need to review three crucial factors in analyzing your social media audit.
Content Performance
Be mindful with the content that you are publishing and sharing with your followers. Identify if the purpose of the content is achieving what it wants to achieve.
If your primary goal is to increase your sales, then, you should need to link your online stores in the content itself. Evaluate if you are getting the results of your effort.
You should focus on your content development if you think that you are not getting the target that you want to achieve.
Page Performance
Always check your Social Media accounts and see to it that they are consistently optimized and updated. Your page should possess the appropriate profile photos, cover photos, and headers.
Check how these photos are shown on mobile phones. Why? So many people are now on their mobile. You need to know who will see your business from there. Also, your page content should be crisp and concise.
Always check if the links that you show on your page are updated, too. Make sure that the correct contact information is displayed on the website.
Performance of Your Competition
You need to understand how your competitors work and what it is doing to your company. Look at their profiles and read their contents. Be aware of how their Social Media accounts stand as compared to yours.
If you notice that your performance is far less than your competition, you need to consider revamping your Social Media strategy. Look for opportunities where you can outshine your rivals.
Auditing your Social Media channels is something that has to be done consistently. It needs to be a continuous process to know if your strategies are still effective.
Creating a file that will show the summary of your Social Media presence is not enough. It would be best if you analyzed what the results mean to you.
How to Do A Social Media Audit
You already have an idea on who your customers will be and what is the most effective channel to use to reach them. How can you say if what you are doing is actually working?
Are you posting the right content that will make your audience respond to you? Were you already able to figure out if there is a return of investment with the campaign that you are trying to pull to increase your market?
Know Your Metrics
You need to use Social Metrics to identify if you are getting the results that you want. SEO companies in Australia know how to look at your data as a whole and set up a benchmark for reporting in the future.
Social Media Marketing Sydney can seem hard at the data from all of your Social Media accounts and the social conversations about your company and your competitors.
Benefits of Social Media Audit for Sydney Clients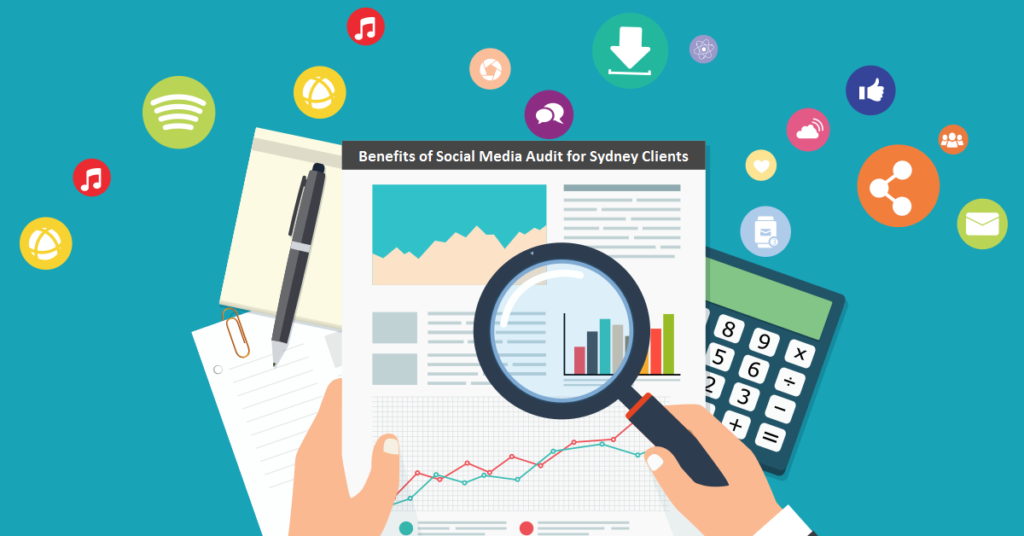 Develop Social Media strategy which will align with your specific business goals.
Find out other trends that can be used in creating Social Media campaigns.
Gather valuable feedback based on your customer's point of view about your service and your brand.
It will help your company see which approach works and which does not.
The audit will show you how engaged your audience to a specific campaign. It will also help you identify which strategies are working and what is not. It is like a survey that will help you focus on what proves to be an effective campaign. An audit will always require you to look and review so much data. There are several ways on how SEO companies can record all this information. Most of the Social Media Managers used tabbed spreadsheets. It can also help if you have a Social Analytics Tools. You can also do the traditional way of encoding the data to compile it from each Social Media Metrics.
Some metrics are easy to acquire by simply going to the Social Media networks. For example, Facebook has business insights. Most of the Social Media networks have their analytics that businesses can utilize for an effective marketing campaign.
You may not need to conduct an audit yet if you are new to the business and starting with Social Media. You need to learn what goes into an audit so that it will help you set up a framework which will be helpful for you as you grow.
Metrics for different social media channels vary based on the available numbers that you can measure.
The social channels that you owned
Performance of the content
How many followers do you have
Channels that you do not own
Who owns those channels
Consistency of your profile
Secondary Metrics to Track
How frequently do you post
What are your best and worst posts
Which post received the most engagement
What time do you need to publish a post to obtain the right engagement
How many had viewed your videos
How many had mentioned you in Twitter
How is your response rate
How many had to click to read your content
What are your effective keywords
How active is your response rate
Benefits of Social Media Audit
You can generate new approaches and benchmarks
Get to know the opportunities that will help you engage more with the customers
Flexibility on budget
Identify the right channel to use at a perfect timing
You need to conduct a separate in-depth audit using your analytics and other ad tools if you are using advertising. Of course, your business will find it helpful if you will use these metrics to improve your content performance and how much ROI you are bringing in.
Analyzing your competition will also help you create a successful audit. There is no harm if you visit your competitor's social media account. Be observant on how they use their social media networks and how many followers they have. Find out how well their contents are. By examining your competitors, you will understand how to better your game.
Seeing all this information in one place is powerful. It will help you effectively analyze your contents and identify new tactics. You can also address weaknesses which will help you focus more on doing what is working best. You will not waste time and effort as you can immediately stop ineffective ads and programs. It will also determine if you will require more resources to achieve the goal that you want to reach.
Conducting an audit may take a while, but it will give you a very favourable outcome. Social Media landscape changes rapidly. You need to keep a full grasp if your efforts are getting your desired results. Consider yourself as a buyer and ask if you would want to engage in this specific business.
There you have it; all the basics of conducting an effective Social Media audit are written above. This is a step that will change the game for you. Please feel free to write us a comment down below and share this to your social media sites. You can also ask us questions about anything about SEO Marketing in Australia. Hit share and how to know if the next person who will read this article badly needs the knowledge.