Read Time:
5 Minute, 54 Second
Did you know that less than 2% of all Google users go beyond the first page of the search engine?
In other words, having your website or pages anywhere beyond the first page of Google has almost no benefit to your online business.
So, what you need is a way to get your website or web pages on the first page of Google.
Google is the most popular and powerful of all search engines. It uses a highly sophisticated algorithm to crawl the web pages on the internet and then determine their rankings based on a number of factors such as relevance, content/information quality, uniqueness, usefulness, etc.
So, in order to rank higher on Google's results pages, you need to build your website pages in line with the search engine quality guidelines, minding the above factors, and some more.
If you don't have enough time to apply these guidelines on your website, you can also hire Proven SEO services in Sydney, Melbourne, Brisbane, Adelaide, Darwin and across Australia for the best result.
What does it mean to be on the first page of Google?
Google's search results are no longer just about those 10 organic results that appear on the first page. With time, Google SERP (search engine results page) has become more sophisticated, containing sections like knowledge panels, paid advertisements, answer boxes, local business results, related questions (FAQs), and more, with the aim to improve the user experience.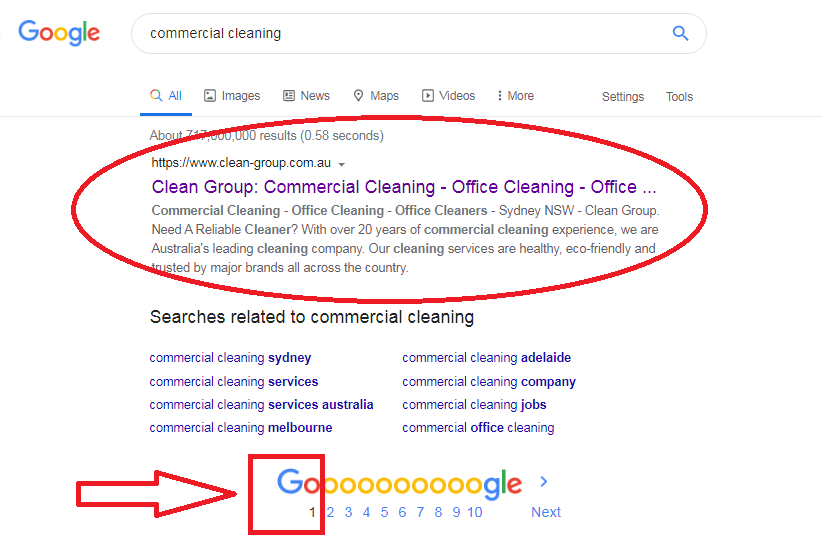 With so much content right on the first page of Google, it is now more important than ever for your website/page to rank on the top. Here's why.
Top ranking pages on Google get a significantly higher click-through rate (CTR) than the lower-ranking results.
Getting your page ranked in special sections like answer boxes, FAQs or local listings will ensure more, immediate exposure.
The top results on Google get more traffic and leads compared to the bottom results. A study by Chitika revealed that the top (first) ranking website on Google gets about 33% of search traffic.
Getting on the first page of Google will help improve your business visibility, making more and more people see your website and be aware of your business.
Top ranking means higher CTR, which results in more leads to your online or local business.
With more than 80% of shoppers searching online before buying, your existence on Google result pages, local results and answer boxes will help boost customer engagement with your business.
Besides the common benefits mentioned above, top search engine rankings can give you many long-term benefits in the form of increased industry authority, higher trustability, better reach and access to a much bigger audience.

How to rank on the first page of Google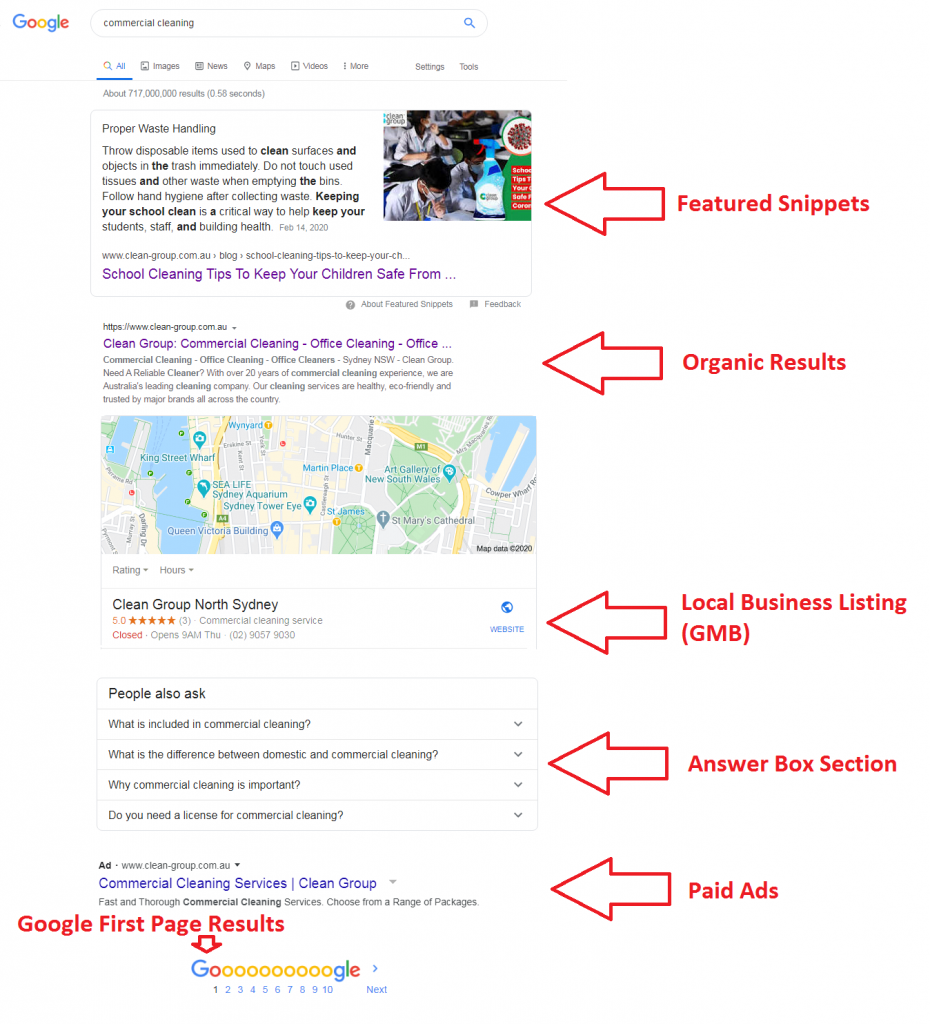 Now that you understand the benefits and scope of ranking at the top of Google, let's discuss the best approach to get your website there.
Google's result page consists of multiple components, giving website owners multiple ways to get to the top of search results. These include:
Organic search results (Website pages and blog)
Local business listing (Google my business page)
Answer box section (Content snippets like faqs from your website)
Paid ads (landing pages on your site)
We will now discuss the best approach to rank well in Google's organic search results.
How to rank your website higher in organic search results of Google
The process of improving your website according to search engine ranking factors with the aim to increase its organic ranking is called Search Engine Optimization. It involves: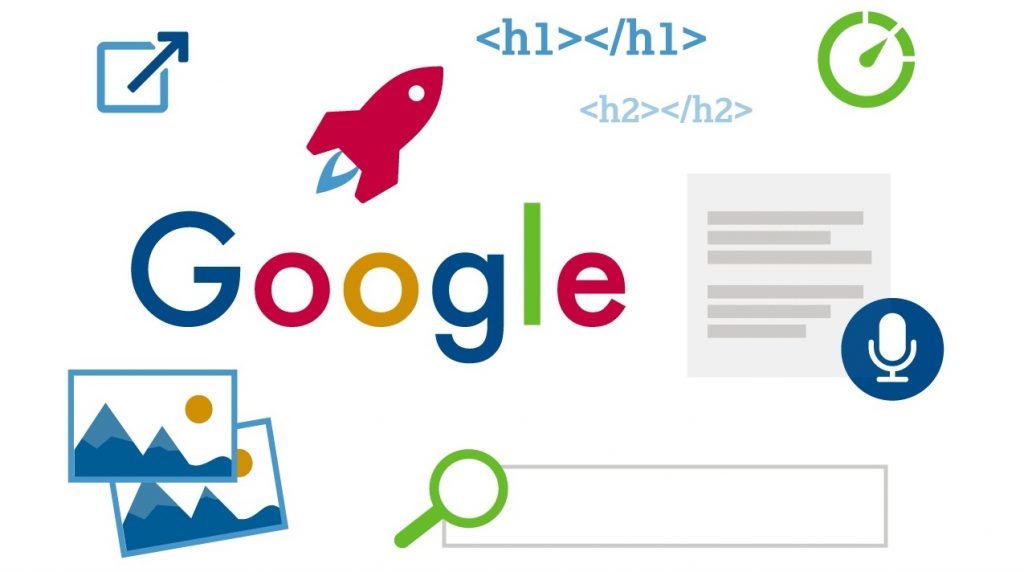 1. Identifying your target keywords
This involves finding the search keywords and phrases for which you want to rank your website or pages. Select unique and distinct keywords for each page on your website. You can use a good Keyword Finder tool for the purpose or seek help from an SEO professional.
2. Using the keywords on your web pages
The next thing, of course, is to use your target keywords all across the content on your website in such a way that tells Google what your pages are all about.
Google uses keywords as an identifier to understand the relevance of a webpage with search queries. The more relevant keywords your webpage has, the more likely it is to rank well on search engines.
Some of the top places to put keywords on your webpage include Page Title, Meta tags, Headings, URL, image alt tags, etc.
3. Optimizing the website content for humans
Besides adding the right, relevant keywords all across the content (avoid keyword stuffing though) on your website pages, it is also important to keep the content relevant, fresh and interactive. In other words, avoid inserting keywords excessively in an unnatural way in your content.
The content on your site must be strictly relevant, useful and informative for the end-user. Rather than writing for Google or search engine bots, write for humans.
4. Mobile optimization
More than anything, Google prefers to rank websites that are responsive. In other words, make sure that your site works the same on mobile as it does on the desktop.
More than 70% of consumers use phones or tablets to search on Google. So, if your website is not mobile optimized, it will not make a good user experience, no matter how high it ranks in search results. Google will notice this and will eventually reduce your ranking.
5. Optimizing for location
When identifying and using target keywords for your online business, don't ignore the importance of location.
A large number of search queries in Google include a location such as a city or country name. So, if you want your website or page to rank for these queries, make sure to include your city or area in your keywords, content, etc.
6. Improving the user experience
Having a well-designed, attractive and responsive website isn't enough to ensure great user experience. It's also about how well your website is designed for smooth navigation, has a great, informative content, clear calls to action, and most importantly, provides answers to the visitors' queries. If your website has all that, it's ready to go up in search engine rankings.
7. Off-page optimization
Once your website is all prepared in terms of responsive & intuitive design, quality content, and everything else and ready to make its way to the top of Google, all it needs is a solid boost through off-page optimization, or commonly called link building.
Link building is the process of creating backlinks to a website or page from high authority, relevant sites in the same niche in order to boost its reputation and ranking on search engines.
For Search Engine Optimization (website optimization + off-page optimization) of your website or landing page, you can hire a professional SEO service expert with Proven Digital Marketing. We are Australia's leading digital marketing agency with specialization in creating & implementing the best relevant SEO strategy to help your website reach the top of Google. For a free website audit, call us now!